All students have had one or more educators who changed their lives for the better – maybe a teacher that inspired them to follow a certain career path, or a principal who helped them through a difficult time in life. As students grow up into professionals and citizens of the world, there is no limit to the impact that educators have on young minds.
That is why we are recognizing revered Model United Nations educators from around the world. These teachers and administrators go above and beyond to help their students succeed in school, their future careers, and life in general. Leading a Model United Nations team can be taxing – educators put in extra hours in the evenings and on the weekends to help prepare their team for conferences. They coordinate logistics for traveling to and from conferences, and they keep their delegates safe while encouraging them to do their best in committees. MUN advisors and coaches are truly the unsung heroes of Model United Nations around the world.
In terms of methodology, all educators that were nominated on the 2016-2017 MUN Educators of the Year survey with valid ballots are included in this article. This is not a rankings article – all of the following educators are listed in alphabetical order by last name. Photos were sourced from school websites and publications.
Adam Amster
Nansha College Preparatory Academy (NCPA)
Guangzhou, China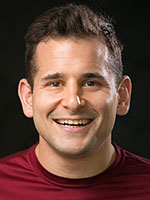 After 4 years' experience teaching Social Studies at the middle school level in Massachusetts public schools, Mr. Amster made his way to China, where he has been teaching at Nansha College Preparatory Academy since 2015. As for Mr. Amster's MUN teaching style and effectiveness, his students had much to say about his prowess.
Zhuoyi Liu said, "This was Mr. Amster's first year teaching in MUN, and as the teacher of our MUN elective class, he has put in a lot of hard work and time on his learning and teaching. MUN at NCPA is a school-wide program, and under his advisory guide we are stepping up to be one of the best MUN groups in our region. He is the kind of teacher with unlimited energy and charm who always inspire you in both class and conference."
When asked about life lessons that Mr. Amster provides outside of the classroom, Zhuoyi continued, "He is not only a good teacher, he is also a good advisor of life. He always gives me useful advice on how to climb higher in academic achievement. He has taught us many lessons on appreciating other cultures and how to engage with the different people."
Brad Borsuk
West Windsor-Plainsboro High School South
Princeton Junction, NJ, USA
Brad Borsuk has had a long career teaching Model United Nations at West Windsor-Plainsboro High School South, which is one of the most successful and competitive high school MUN teams in the country. Currently, Mr. Borsuk teaches A.P. United States History and International Business and Cultures at WWP in addition to leading the MUN team.
Current student Siddarth Muchal talked about Mr. Borsuk's experience and hard work. "Mr. Borsuk has been the advisor for South's MUN team for the past 20 years, and has been extremely helpful in keeping the club growing and helping us to attend 5 conferences a year. Mr. Borsuk has introduced us to the real world, not only through the perspective of Model UN, but the understanding of how conferences work and how we can run our own conference, SouthMUNC."
Many students talked about Mr. Borsuk's kindness and leadership, and how he has helped them develop their research skills and confidence through MUN and traditional classes. A number of students also discussed how Mr. Borsuk has helped them deal with adversity during difficult times in life, and how to power through and remain optimistic.
Samantha Burbidge
Escuela Internacional Sampedrana (EIS)
San Pedro Sula, Honduras
As Head Coach of the EIS Global Leadership Program, Samantha Burbidge has been a huge part of the EIS community for the past few years, and she won the Teacher of the Year award at the school for the 2016-2017 academic year. With over 50 submissions to the MUN Educators of the Year nomination form, Ms. Burbidge is certainly beloved by her students.
High school student Alexia Orellana described Ms. Burbidge's experience in shaping the EIS MUN team. "Ms. Burbidge created and organizes our annual SPSCON, a quality high school MUN conference in San Pedro Sula, Honduras. Through this conference she, alongside the Escuela Internacional Sampedrana MUN program, opened the doors to many Honduran delegates who wouldn't otherwise have the opportunity to experience such an excellent conference."
Carolina Santos, a parent of an EIS student, talked about how Ms. Burbidge has helped shape her students into young diplomats. "Our delegates have developed a passion for all different social, economic, political and environmental aspects regarding our community and country. This is leading them to become better humans consciously thinking to build a better country."
Many students commented on Ms. Burbidge's kind spirit and encouragement. Ana Abufela said, "There is no other person in the world that can make students feel capable and special like Ms. Burbidge. She truly brings out the best in people and helps them realize their potential, because even if you don't believe in yourself, she will."
Mark Gruskin
American Heritage School
Plantation, FL, USA
Mr. Gruskin has had numerous professional experiences before teaching A.P. United States History, International Business Law, and other classes at the American Heritage School. He has experience in practicing law, and worked for the New York State Governor's office in the past. He currently also teaches political science at the university level.
Students of Mr. Gruskin's described his intense work ethic and dedication to the American Heritage School Model UN team. Eric Bazail said, "Mr. Gruskin works like a Trojan foot soldier for our club, without any hesitation or unhappiness. He inspires us with his passion, his dedication to this club, and his ability to recognize talent and promise in new delegates. Mr. Gruskin has taught me to believe in myself, despite the odds being stacked against me. Mr. Gruskin has helped me, through the opportunities provided in MUN, become more confident and more of a team player."
Eric also went on to discuss Mr. Gruskin's teaching prowess: "In addition to being America's best MUN advisor, he is one of the best and most passionate history teachers there is. He loves history, teaching A.P. U.S. History and Honors World. He also teaches Constitutional Law and A.P. Comp. Government. He teaches with a fervor unseen in other classes, and the material he teaches sticks with students for the rest of their lives. He is a phenomenal teacher."
Terry Jozwik
Glenbrook South High School
Glenview, IL, USA
Terry Jozwik taught for an impressive 39 years at Glenbrook South High School before retiring last May. He led the GBS Model United Nations team to many successes, including the prestigious Award of Distinction from NHSMUN in 2016.
According to the Glenbrook South school newspaper, one of Mr. Jozwik's biggest impacts on students has been his involvement advising Model UN. According to former student Grace Kilpatrick, "The relationship I've formed with Mr. Jozwik over my four years at South has been by far the most impactful on my life and my being," Kilpatrick said. "He is someone who – from shooting me emails about Model UN to sitting in his office for hours just discussing life – has instilled in me, in the same way my parents have and my family has, certain values that I think I am going to carry with me from high school and so far forward."
Alex Economou, a GBS student and a Best Delegate Media Associate for this past year, said that, "If you ask anyone on the GBSMUN team, Mr. Jozwik is like a second father to us. He cares a lot about each of us, and he wants us to reach our potential. He doesn't get mad at us if we don't win an award, he cares that we had fun. It is something that definitely makes him stand out."
Student Aidan Graham spoke about what Mr. Jozwik instills in his students beyond typical classroom lessons. "Being diplomatic is not just something you need in Model UN. Being able to work with people is vital to adulthood and the rest of life, and Mr. Jozwik does an amazing job of fostering that type of growth."
Deborah Kendall
Berkeley Middle School
Williamsburg, VA, USA
Deborah Kendall is part of a new wave in Model United Nations education – middle school teams! Over the past few years, MUN has been spreading around the world, and the middle school age group is one of the fastest-growing demographics.
Ms. Kendall was lauded by her students for her MUN expertise and advocacy on behalf of her young students. Anne Gareis said, "She has taught me so much about international relations, and how important it is. She fights hard for our MUN careers, and makes sure we get the best experience possible."
Another student, Henry DeVasher, agreed with the above sentiment and added, "Ms. Kendall has taught me and showed me everything there is to know about MUN. She cares greatly about all of us and would do anything for us. She makes me want to be in the United Nations every day with her spirit and enthusiasm, and she has taught me how to conduct myself in a formal manner, be kind, be respectful and responsible, and be organized. She is the best teacher I've ever had and is a great person."
John Krizel
Oakton High School
Vienna, VA, USA
A big fan of history, theater, and Jeopardy, John Krizel is also a popular teacher at Oakton High School. In addition to teaching A.P. Human Geography, he also is the advisor and coach of the OHS Model United Nations team.
One of Mr. Krizel's students, Eddie Kim, talked about his great leadership in MUN. "Mr. Krizel heads the Oakton Model UN team as a sponsor and a leader. Without him, it would be impossible for students like me to attend MUN conferences all over the United States. He's taught me to think bigger. Rather than the awards, he makes sure I get the best experiences possible. He is a great teacher and he is a wonderful person to be around."
Eddie's classmate Neil Cyrus concurred. "Mr. Krizel has promoted Model UN in our school to make it a major club, and he has built out the group into an amazing organization. He has taught me how to conduct myself in major conferences to compete with other accomplished delegates."
Colleen O'Reilly
Albert Leonard Middle School
New Rochelle, NY, USA
Colleen O'Reilly is another proponent of middle school Model United Nations on our list. In addition to being a 7th grade social studies teacher, Ms. O'Reilly also runs the only middle school MUN program in the county.
Carly Rieger, the current President of the Albert Leonard MUN team, sang many praises for Ms. O'Reilly's MUN expertise, caring demeanor, and life lessons. "This year, Ms. O'Reilly took 18 eighth-graders to Vancouver for a high school MUN conference! She is also a mother figure in all of our lives and she deserves so much appreciation. She is such a smart, strong, and wonderful teacher and advisor. She has taught me so much about the world and even more about Model UN. In addition, she has also taught me so much about making the right decisions and I know she is always there for me. Lastly, she has taught me so much about leadership and public speaking. I have lead club meetings, taught lessons to my classmates to prepare for conferences, and I have lead activities for the club. She always makes sure we're prepared and would never force us to do something we weren't comfortable with. Colleen O'Reilly is the most amazing MUN Educator because she works so hard, and she deserves the world."
Adam Pounder
Havergal College
Toronto, ON, Canada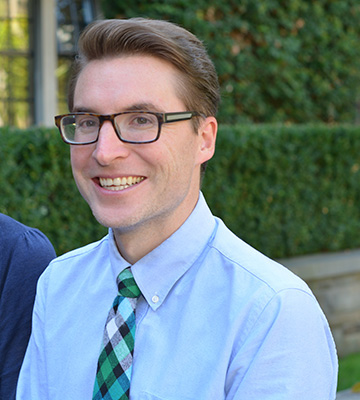 Award-winning educator Adam Pounder currently teaches upper school history at Havergal College, a boarding school for girls in grades kindergarten through 12th in Toronto, Canada. In addition to teaching history, Mr. Pounder is also the leader of the Havergal Model UN program.
Former student Angela Hou, who is also a Best Delegate Model UN Institute Mentor for Summer 2017, had much to say about her teacher. "Mr. Pounder has been an amazing supporter of the MUN program at Havergal College (HC). From weekly meetings to supervising conference trips, he has consistently demonstrated dedication, patience, and care for his students. Under Mr. Pounder's supervision, MUN at HC has transformed from a tiny club with no award-winners to a large delegation that consistently wins multiple achievements at every conference it attends, and a club that welcomes roughly 130 delegates annually at a school-hosted conference in Toronto. Mr. Pounder is an unrecognized "hero" who has kept the club running, and he is an inspirational source of confidence in our MUN program. We can always depend on him for a heart-warming smile and for inspiration or motivation. He constantly reminds us to have confidence in our abilities, while remaining very humble about his own contributions to the club. All MUNers at Havergal have benefited and learned from the sense of mentorship, mutual support, and confidence-building that Mr. Pounder demonstrates."
Paul Saboe
Pope John Paul II High School
Hendersonville, TN, USA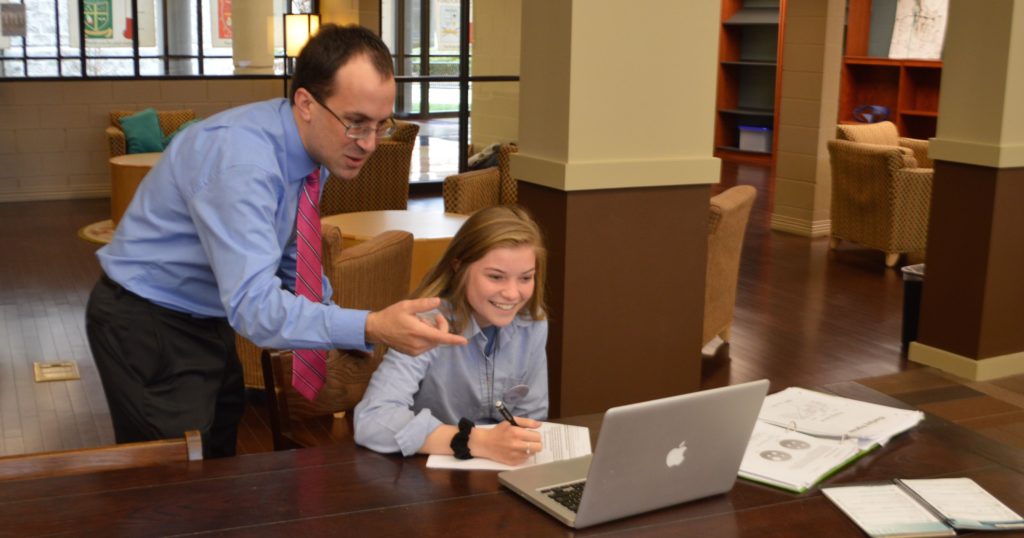 Paul Saboe has led the Model UN program at Pope John Paul II High School since the school's opening in 2002. Mr. Saboe has taken his many years of education experience and applied it to improving the school's MUN program, which has involved 676 students who have won 489 awards at 49 conferences since its creation.
Mr. Saboe's fellow teacher Natalie Lodoen described the hard work that has gone into shaping the school's MUN team. "Over the past 15 years, Paul has grown the program to be the largest extra-curricular program in the school, inspiring students to participate throughout their four years in high school. In addition, he began a Model UN conference at JP2, attracting many high schools from around the Middle Tennessee region. Paul has done all of this without having a particular class time set aside in the day to work with the students. The organization, enthusiasm, and fun he incorporates into the program is inspiring. He does all of this while teaching students the importance of work ethic and accountability."
Srinivasan Sitaraman
Clark University
Worcester, MA, USA
While many university MUN teams do not have close relationships with their faculty advisors, the team at Clark University is lucky to have an advisor that is deeply involved in their program. Professor Srinivasan Sitaraman, affectionately known as "Srini," has been the faculty advisor for the Clark MUN team, which was ranked in the Top 50 teams in North America this year by Best Delegate.
Clark undergraduate Cory Bisbee had the following to say about Professor Sitaraman. "Professor Sitaraman has advised MUN at Clark for years and he has guided and sustained its growth. He teaches a class each semester on MUN, as well as courses on the United Nations proper, and has also overseen trips to the United Nations Headquarters in New York. In and out of class and conferences, Prof. Sitaraman is always there to lend advice, take a few photos with his iPad, and of course talk MUN."
Another student, David Sullivan, echoed these sentiments. "Srini cares deeply about the students in the MUN program – you'll always see him posting internship and career opportunities in our Facebook page or talking highly of us in front of his large international relations class. He is an important part of Clark MUN and its success."
Ina Szekely
Havergal College
Toronto, ON, Canada
A colleague of Adam Pounder at Havergal College, Ina Szekely has also been instrumental to the success of the school's Model United Nations team. By overseeing a group of more than 30 girls in their MUN progress and conference schedule, Ms. Szekely has helped her students grow and succeed.
One student, Melissa Wong, described Ms. Szekely's dedication to the MUN program and her wise lessons. "This past school year, I had the honor of working with Ms. Szekely. She has been extremely helpful in keeping my co-club head and I on track, since the club grew tremendously this year. She supervised seven conferences for our team this year, including giving up her long weekend back in November to allow us to go to SSUNS [at McGill University]. Ms. Szekely always encourages everyone to have confidence in themselves, no matter in what situation. After every committee session, she listens to how everyone's experience was, and tries to help out wherever she can with advice. She has also taught me that not every single thing has to be done to perfection, and that being a leader is a learning process. I've been able to take this to many other different aspects of my life, and to encourage others to take a chance and try new things; it doesn't matter if you make a mistake in the process. Without having Ms. Szekely as one of the teacher advisors, we wouldn't have been able to organize a group of around 30 girls as easily as we were able to this year."
Candace Wilmot
John Jay High School
Cross River, NY, USA
Candy Wilmot has been teaching at John Jay High School since 1999, after graduating from Columbia University, Teachers College. Currently, she serves as staff developer and teacher at JJHS, and she is also the leader of the school's MUN team.
One of Ms. Wilmot's students, Daniel Gordon – an MUN Institute alumni and leader of the school's JJMUNC MUN conference – had much to say about the JJHS team and their leader. "Ms. Wilmot is a passionate and knowledgeable Model UN advisor who acts as the liaison between the students and the school administration. Without her hard work, none of our MUN trips or events would be possible. She helps students organize permission slips, funds, and the trip itineraries to make the conferences the best they can be. Her kind spirit brightens each and every meeting we hold."
Another student, Giovanni Wolfram, said that, "Candy always keeps us on track during our meetings and makes sure we're on our best behavior during our overnight trips. By doing this, she allows us to perform the best we possibly can. Candy also was a huge help in setting up our own Model UN conference and we wouldn't have been able to do it without her."
Chad Wright
Kettle Run High School
Nokesville, VA, USA
Mr.
Wright has been teaching history and social studies at Kettle Run High School for more than 11 years, and he also currently serves as the head of the school's MUN program. The team has become very successful since its creation in 2012, and has won at numerous conferences in the past, including George Mason University's MASUN in 2016.
One MUN participant and student of Mr. Wright's, Sang Dai, had the following to say about their teacher. "Mr. Wright has been the sole sponsor and supporter for the club since it began. He's been such a motivational speaker that it makes me want to improve my own public speaking skills! Mr. Wright has also taught us that it's not always about winning, but it's still fun to win. He's an overall incredible guy that has inspired us all to become great students and delegates."
**
Congratulations to all of the MUN educators featured here, and thank you for all of your hard work promoting MUN education in your communities! Thank you also to the middle school students, high school students, college undergraduates, parents, and teachers who submitted nominations for their favorite MUN educators.
Not yet an expert Model UN Advisor? We are here to help! Our Advisor Institute is a groundbreaking professional development program to help teachers learn MUN, start new clubs, and lead their delegates to success! At the Advisor Institute, participants learn a step-by-step process for how to help your students prepare for Model UN conferences, how to help your students conduct research, including how to research a country's policy on a Model UN topic, and so much more.
This summer, the Advisor Institute is taking place at Georgetown University from July 10-14. Click here to learn more about the program!