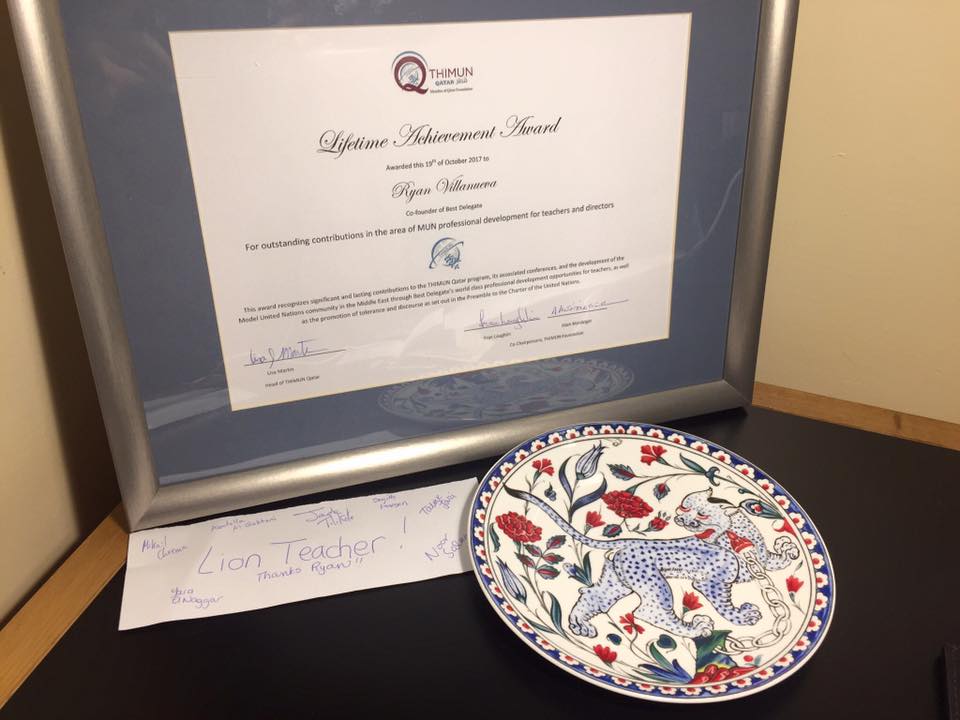 Last month, Erik and I attended the annual Qatar Leadership Conference. I've attended this conference ever since it started in 2012. It's one of my favorite conferences to attend because it takes a step back from simulating the UN, and instead asks students and educators how their Model UN experience translates into leadership and impact.
It's also a great conference because it's created a global community of students and educators who attend this particular conference. Because of this conference, students have started online debate and mentorship programs, a center for peace in Israel-Palestine, and an NGO in Afghanistan that teaches Model UN.
And every year there are some fun surprises.
Going into this year's Qatar Leadership Conference, I had a surprise gift lined up for Executive Director Lisa Martin because it's her last year in Doha (which I'll share in a later post).
Little did I know that Lisa had a surprise lined up for me.
During Opening Ceremonies, I was using Facebook Live for the first time to broadcast Lisa's opening speech. Because of the blockade, a few people were not able to attend who otherwise who would have, and I wanted to share the conference with them.
Lisa finished her speech and segued into announcing this year's "lifetime achievement award" recipient. This is a tradition they started last year with former Executive Director Cameron Janzen, who forged the partnership that would become THIMUN Qatar.
My iPhone camera was trained on Lisa when she pulled up my picture on the projector screen. She kept speaking and it became clear she was talking about me, my co-founder KFC, and Best Delegate.
Lisa described our Model UN Professional Development program, known as the Director Training Institute at the THIMUN conferences.
Awsaj Academy MUN Director Emmy Josefson joined her on stage. Emmy said some very kind words about her experiences with our Model UN Professional Development program.
And the entire time they were talking about me, I could feel myself glowing red. And all I could think to myself was, "I may have to say something…I have about thirty seconds to figure this out…I teach public speaking, I can do this…hook, point, action…"
And then Lisa called me on stage. Everyone clapped. I felt very honored and humbled to accept this award.
I also accepted the award on behalf of the Best Delegate team. Because I saw this as recognition of our collective work to create Model UN professional development programs, which started with my co-founder Kevin and I both visiting the Middle East six years ago.
And I accepted this award on behalf of all the educators we've worked with in the region and globally to create Model UN professional development. Starting with Cameron and continuing with Lisa and directors like Emmy.
My name may be on it, but this award is also for my co-founder KFC, the Best Delegate team, and all of the educators we've worked with to create Model UN professional development.
After opening ceremonies, people congratulated me throughout the conference. My Mom also messaged me saying she happy to hear about the award. But she also joked with me, "You got a lifetime achievement award — now what else do you do with your life?"
Lifetime achievement award or not, I believe there's a lot more I need to do — there's a lot more good work that Best Delegate and I can do — there's a lot more impact that I, as part of the larger MUN community, can create.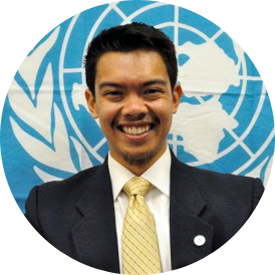 Ryan Villanueva
Co-Founder & Education Director