I had the privilege of giving the closing keynote speech at last month's Qatar Leadership Conference. Even though public speaking is part of what I teach, I still get nervous — just like any of my students!
For keynote speeches I stress the craft of speech writing. I really admire well written speeches and the people who wrote them. Speechwriting and political rhetoric is an area I studied in university and dabbled with as a potential career. There's a poetry that goes into quality speechwriting. While at the same time words are precisely chosen to convey specific meaning and subtext.
This is a not a level of public speaking that I often see in model UN, nor is it a level that I get to teach to students; we focus on getting structure right first, followed by style. But it's a level that I want to perform at personally and something I know I can keep improving on.
So just like any of my students might do I was writing and rehearsing my keynote up until the very last minute when it was time to take the podium.
Ryan Villanueva's Closing Keynote Speech at the Qatar Leadership Conference 2017 But when I finally spoke, I made a few improvisations.
Here's how it came out:
I finished my speech — but that wasn't all.
It's Lisa Martin's last year as THIMUN Qatar Executive Director and this was her last QLC. This conference is particularly special because it's different; it focuses on leadership, and creates real impact. The programs that got started because of the QLC include THIMUN O-MUN, the Salam Centre for Peace, and Hope for Education and Leadership in Afghanistan.
These programs are led by students, and THIMUN is all about student leadership. But behind any student leader, you can probably find a good teacher. For many students, Lisa is the teacher, educator, director, role model, and dream maker who stands behind them and their programs, and the impact of the QLC.
So a couple weeks before the conference, I asked Ibrahim El-Kazaz to create a farewell video. I played it right after my keynote:
Special thanks to Ibrahim, KFC, Fatima, Steven, Sandev, Sulaiman, Rahmatullah, and others who were involved in creating the video!
After the video I called Lisa up on stage to a standing ovation. The QLC student leadership team presented her with flowers. And then she started walking off stage.
But there was one more surprise left…
Out from back stage left, Lisa's daughter Zoe, and HELA co-founder Sulaiman, came out with a big white box.
What could it be?
I told Lisa that she may not like awards, but there is one thing that symbolizes leadership in Model UN, and that's the gavel.
So it's only fitting that the "Dream Maker" would receive the biggest gavel you've ever seen!
Special thanks to Zoe, Sulaiman, Andrew, Jarin, Cody, and others for helping me get this gavel to Qatar, giving me feedback on what to write on the band, and presenting it on stage.
Use it wisely, Lisa!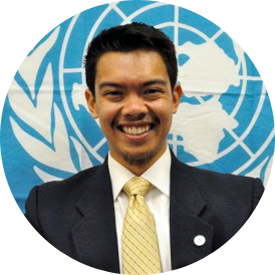 Ryan Villanueva
Co-Founder & Education Director